The following elements can be found in the Dot Voting of a Session on the Sessionboard or on the laptop / PC:
CONTENT
The Dot Voting banner
After starting a voting, the Dot Voting banner appears in the upper left corner on the Workspace of Sessions. Here the number of current votes is counted as a small number. In addition, the vote can be ended in this banner.

Read more: How to start Dot Voting
The Dot Voting widget
The Dot Voting widget opens as soon as a vote ends, or another vote is started. After the current voting has ended, you have the following options: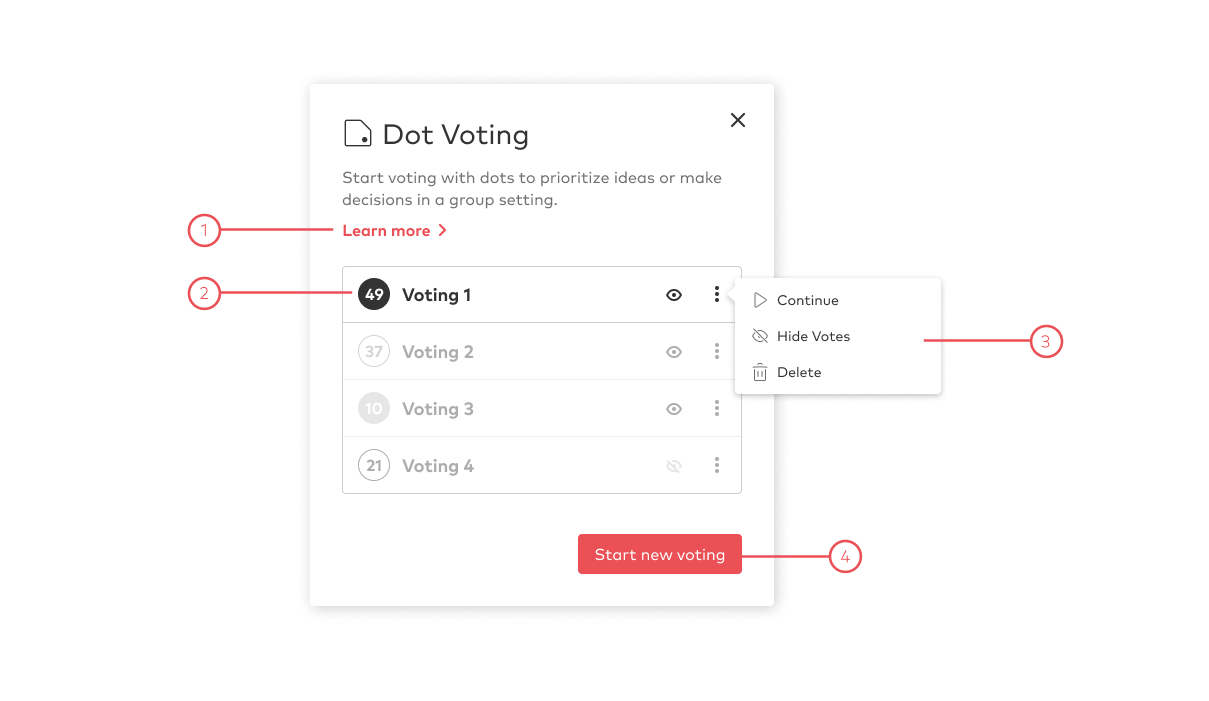 Learn more

Opens a help with further explanations.

Voting

Each vote carried out is listed as a separate list item. The following is displayed for each vote:

Context menu

Called up via the three-point menu of a vote. You have the following options:

Start a new voting

Starts a new Dot Voting.
The voting label
The voting label is located in the lower right corner of all content that received votes during a Dot Voting. It is displayed as soon as several votes are set to visible in the Dot Voting widget. In this way, the results of various votes can be compared with one another.
The following applies:
A maximum of three votings from the list can be displayed - in the example, votings 1 to 3 are displayed.
Content that did not receive a vote has a gap in the label at the appropriate point - in the example, Idea 03 did not receive a vote in voting 2.
Hidden votes are not displayed in the label.